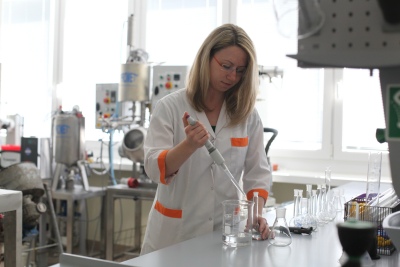 Course
MSc in Biotechnology



Address
Lodz University of Technology, International Faculty of Engineering / Faculty of Biotechnology and Food Sciences, Zwirki 36, 90-924 Lodz, Poland


Telephone
(+48) 42-638-38-64


Facsimile
(+48) 42-638-38-63


E-mail address
foreignstudents(at)info.p.lodz.pl


Type of course
Full-time


Language of tuition
English


Length of course
3 Semesters


Date of commencement
February


Class size
25 students


Accommodation
Available


Major recruiters of graduates of our programmes
Pharmaceutical industry, food industry, cosmetic industry, research and development laboratories, analytical laboratories, scientific institutions.


Exchange partner schools
University of Camerino, University of Lisbon, University of Wolverhampton, Universite Pierre et Marie Curie Technical University of Denmark


Student profile
1. Ratio of National / Overseas students - 95 %
2. Ratio of Men / Women - 30 % / 70%
3. Age range - 22 - 25


Admission requirements
https://rekrutacja.p.lodz.pl/en/international-candidates


Programme Director
Professor Stanislaw Bielecki


Contact details for application
Alina Rudenko
E-mail: foreignstudents(at)info.p.lodz.pl
Phone:(+48) 42-638-38-64



Lodz University of Technology
Master of Sciences in Biotechnology

Master program in Biotechnology is realized at the International Faculty of Engineering in close cooperation with Faculty of Biotechnology and Food Sciences. Since this is one of very few English-language programs in Poland, and since the Faculty is renowned for scientific excellence and interdisciplinary approaches, the students are selected from a large number of applicants according to especially stringent criteria. Some parts of the study programme are realized by such modern methods like the problem based learning (PBL) or design thinking (DT). Master of Science degree is conferred on the Second Cycle Graduate.

In addition to the skills learned from the First Cycle, she/he is prepared to design biotechnological processes and conduct in order to obtain products with the desired characteristics for the food, chemical, pharmaceutical, environmental and other industries. She/he understands the ecological, social, legal and economic aspects of Biotechnology.

Knowledge and skills necessary to plan and conduct research and use the results make our graduate functions well in research and diagnostic laboratories, as well as in R & D-based of the biotechnology industry and related industries. She/he has an interdisciplinary knowledge in the areas of biological, chemical and technical sciences, which results in practical and theoretical qualifications in such particular biotechnological applications as: selection and directed genetic modification of both microorganisms and the cells of higher organisms, processes of biosynthesis and biotransformation; isolation and purification of bio product and their analysis and diagnostics.

The Graduate has the command of additional skills like security of working with genetically modified microorganisms, the implementation of innovation management systems in Biotechnology, marketing and production management and also can promote the social acceptance of Biotechnology. She/he has also the ability to take the role in problem solving, technical and human resources and also some knowledge in the area of informatics, economics and industrial quality control. She/he can work in the international environment and is able to refer to other fields. The Second Cycle Graduate is well-prepared to embark on a Third Cycle - PhD.


Admission requirements

Legalized or provided with an 'apostille' Bachelor's Diploma together with diploma supplement and Transcript of Records of undergraduate study. The candidate must have a qualified first-cycle engineering studies, including the skills necessary to pursue education at second-cycle:

a) knowledge of chemistry, physics, mathematics, biology and microbiology to enable understanding of the fundamentals of Biotechnology and to formulate and solve simple problems to the design of biotechnological processes;

b) knowledge and skills in the use of living organisms and biomaterials for the bioconversion of raw materials and energy, enabling the simple design of biotechnological processes;

c) the ability to use the methods of analysis, simulation and experimental studies to formulate and solve engineering tasks;

d) knowledge and skills in the use of computer systems for the analysis of and control of biotechnological processes;

e) the skills of interpretation, presentation and documentation of the experiment, and the presentation and documentation of the tasks of a project.

A person who as a result of the completion of the first cycle did not obtain the specific powers, may take a second-cycle in Biotechnology, where the deficiency of competence can be achieved by the completion of classes of not more than 30 ECTS credits.


Language fluency

First Certificate in English (FCE), Certificate in Advanced English (CAE), Certificate of Proficiency in English (CPE), Business English Certificate 2 (BEC2), Business English Certificate (BEC3),Certificate in English for International Business and Trade (CEIBT), certificates issued by University of Cambridge Local Examination Syndicate, International English Language Testing System IELTS – over 6 points- certificates issued by University of Cambridge Local Examination Syndicate, the British Council & Education Australia, Test of English as a Foreign Language (TOEFL) – at least 500 points from the test, 3.5 points from the writing part TWE and 300 points from the oral exam TSE, issued by Educational Testing Service, Princeton, USA.


About Lodz University of Technology (TUL)

Lodz University of Technology (TUL) is located in Lodz, the third largest city in Poland, being in the very centre of country. Poland can be recognized as the heart of Europe, crossing of cultures and trade routes, a land of mountains, sea, lakes and forests, amber, Arabian horses, etc. It is famous of Polish hospitality and rapidly developing economy. Lodz is famous of its Film Academy with such distinguished graduates like Polanski or Skolimowski. Here you can find 6 public academic institutions, the School of Polish for Foreigners and 22 private ones with over 120 000 students in total.

The Lodz University of Technology was established in 1945. It is now one of the largest universities in Poland with over 18 500 students at 9 faculties. In 1992 TUL was the first in Poland to set up the International Faculty of Engineering with English and French as official teaching languages and still is the only university in Poland with such a wide range of programs in foreign languages. TUL offers the degrees of Bachelor of Science, Bachelor of Arts, Master of Science, Doctor of Philosophy and Doctor of Science. In 2009, TUL was the first university in Poland to be awarded the prestigious ECTS Label Certificate by the European Commission.

The education at the Faculty of Biotechnology and Food Sciences is unique among other Polish technical universities. It is characterized by interdisciplinary nature, which assures preparation of specialists who can combine chemical, biological and engineering/technical knowledge.

In response to the current needs of changing labour market, the education is developing and new fields of studies that prepare highly specialized engineering staff are being launched. The offer of the Faculty of Biotechnology and Food Sciences includes four modern fields of studies: Biotechnology, Bioeconomy, Environmental Biotechnology, Food Technology and Human Nutrition, Cosmetics Technology and diploma courses at undergraduate and graduate level, including study programs in English. Currently, only Biotechnology is available in English, but Food Technology and Human Nutrition is in the course of preparation.

The programme of BIOTECHNOLOGY offers such specializations as molecular biotechnology, technical biochemistry, technology of fermentation, technical microbiology and biotechnology of food. The graduates are trained to work in biotechnological, food and pharmaceutical industries. We also teach them the skills of autonomous planning and conducting research. As a result, graduates become experts who do exceedingly well in testing and diagnostic laboratories as well as in research units.

BIOECONOMY undergraduate studies are carried out at three universities: Lodz University of Technology, Warsaw University of Technology and Military Technical Academy in Warsaw. Students realize one semester at each of three universities but six semesters at maternal one. Graduates are familiar with such areas like biocatalysis and biotransformation of waste biomass into an array of valuable products, like functional foods, biopolymers and biofuels, design and development of innovative industrial processes based on renewable resources and modern techniques of upstream and downstream processing. High interest is observed and there are plans to arrange second cycle program of bioeconomy.

The programme of ENVIRONMENTAL BIOTECHNOLOGY develops skills connected with prediction, prevention and description of ecosystem pollution. Students learn the rules of processes design in terms of sustainable development. Graduates acquire skills that are expected by companies, institutions connected with urban economy, waste generating industrial plants, and also by local government units dealing with environmental protection and monitoring.

Within the programme of FOOD TECHNOLOGY AND HUMAN NUTRITION, students are provided with the rules of carrying out technological and biotechnological processes in food production, including the methods of food storage and preservation. They learn how to launch and supervise food production processes and get to know the principles of proper human nutrition. They build up their competencies at the following specializations: food technology, food analysis and quality evaluation, and food and cosmetic raw materials chemistry.

The students of the COSMETICS TECHNOLOGY Programme are taught how to organize and control the production of safe cosmetics and learn the rules of launching new products into the market. The above mentioned competencies are sought by the companies which produce and distribute cosmetics and cosmetic raw materials, and also by research and development laboratories operating in the pharmaceutical and chemical sector.

The Faculty also offers doctoral degree programmes and promotes the idea of life-long learning, which can be illustrated by the wide range of part-time studies, postgraduate programmes and further training courses. The educational activity that the Faculty runs meets the highest quality criteria, which may be demonstrated by a number of certificates, awards and honours. Central Science and Education Council has recognized the education outcomes worked out by the Faculty of Biotechnology and Food Sciences as a model.

All the programmes at the Faculty are being regularly evaluated by accreditation committees. The institutional evaluation carried out by the Polish Accreditation Committee has confirmed proper functioning of the internal education quality system, both in relation to undergraduate and graduate studies, and to postgraduate studies and doctoral degree programmes.

The programme of biotechnology has been awarded by the Ministry of Science and Higher Education in the "Competition for a million" aimed at the Faculties that base their educational programmes on three firm foundations, namely: the latest knowledge, acquisition of social skills and competencies which are sought by employers and necessary for starting out on one's professional or scientific career.

The Faculty has been engaged in the SOCRATES and LLP ERASMUS student exchange programmes since 2000. The students of our Faculty were among the first participants, who studied at foreign universities. Since 2014 under the ERASMUS+ programme, the Faculty has signed 13 contracts with European universities on the student and employee exchange in Austria, Belgium, Holland, Finland, France, Italy and Cyprus.