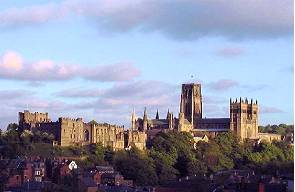 Courses
Pre- Sessional English for Academic Purposes
Preparatory English Course
General English Course



Address
Elvet Riverside, New Elvet, Durham, DH1 3JT, UK


Telephone
+44(0) 191 334 2230



University of Durham
The Language Centre
Pre- Sessional English for Academic Purposes
Preparatory English Course
General English Course

About University of Durham

Durham is one of Britain's oldest and best-known universities. It has an excellent reputation in both teaching and research. It is extremely popular with British and international students.

The University is set in a famous Cathedral city that is classed as a World Heritage Site. Durham is a small city in a beautiful riverside setting, surrounded by peaceful countryside and with convenient access to shops, restaurants and a full range of local facilities. These advantages make the University and its Colleges popular venues for conferences, summer schools and short courses, as well as for its ten thousand students.

Durham offers direct access to the dynamic and lively city of Newcastle, and many places of outstanding scenic beauty are within easy reach. The Northumbrian coast, the Scottish Borders, Edinburgh, the Lake District and the Durham dales are all within easy reach.

Transport links with the rest of the UK and with Europe are excellent. The City is on the principal Railway and Motorway networks, and there are two international airports nearby – Newcastle and Durham Tees Valley.