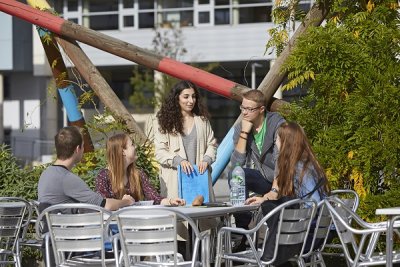 Course
M.Sc. Chemistry and Physics of Functional Materials



Address
Faculty 3: Mathematics/Natural Sciences, Institute for Integrated Natural Sciences (IfIN), Universitätsstraße 1, 56070 Koblenz, Germany


E-mail address
material(at)uni-koblenz.de



Type of course
Full-time


Language of tuition
English


Length of course
3 semesters (90 LP)
additional 30 CP could be requested to ensure at least 300CP (bachelor and master)


Date of commencement
Winter semester (October) and summer semester (April)


Class size
25-30


Cost / fees
There are no tuition fees, only an administrative semester fee of 235 Euro per semester.


Student grants / Financial assistance
Students admitted to the program can apply for a financial support scholarship (a partial scholarship) for the first semester.


Accommodation
Students can apply for apartments in the student halls of residence.


Major recruiters of graduates of our programmes
The Master's program develops the qualifications needed for a Ph.D. program or a responsible position in research and development in industry and research institutes.


Exchange partner schools
Oles Honchar Dnipropetrovsk National University, Ukraine (organized), other possible on individual agreements


Student profile
1. Countries of origin (number): 17
2. Ratio Men/Women: 7/1
3. Average Age: 35 years


Admission requirements
See opposite


Programme Coordinators
Prof. Dr. Joachim Scholz, Prof. Dr. Stefan Wehner


Contact details for application
Mrs Ines Tobis (Welcome Center)