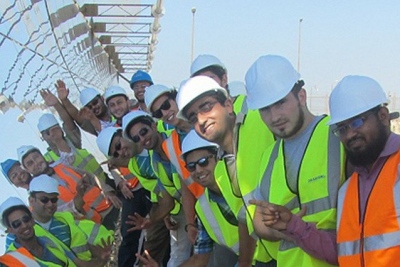 Course
M.Sc. in Renewable Energy and Energy Efficiency in the Middle East and North Africa (MENA) Region (REMENA)



Address
*University of Kassel, Dept. of Electrical Engineering/Computer Science, Communications Lab ComLab, Wilhelmshöher Allee 73, 34121 Kassel, Germany
*Cairo University, Faculty of Engineering, Giza, 12613 Egypt
*University of Monastir, National Engineering School of Monastir, ENIM, 5019 Monastir, Tunisia



Telephone
University of Kassel: +49 561 804 6419
Cairo University: +20 2 35678264
University of Monastir: + 216 98 45 20 98


E-mail address
remena(at)uni-kassel.de



Type of course
Full-time


Language of tuition
English


Length of course
Overall length of 24 months:
The REMENA Master program has recently been reformed to a 4 semester 120 ECTS Master program and can be studied in six different study modes based on the sites where the studies are accomplished, namely, Cairo University (CU)/Egypt, University of Monastir (UM)/Tunisia, University of Kassel (UKAS)/Germany and University of Sfax (US)/Tunisia. Please visit our website for further details on the possible study modes.

Students who start in summer 2020 in Kassel will have the chance to spend the second summer semester in Sfax/Tunisia. They also may apply for ERASMUS+ funding for their study period at ENIS in Sfax, Tunisia. Find more information on our new study modes, modules and regulations: Curriculum, Modules, Study Regulations.


Date of commencement
March (2020) for summer term, i.e. start of studies in Kassel/Germany
September (2020) for winter term, i.e. start of studies in Cairo/Egypt or Monastir/Tunisia
From summer term 2020 onwards, the summer term will start start in March always.


Class size
20


Cost / fees
The costs to be covered by each student per semester amount to ~ 4,300 Euro on average/semester depending on study site and lifestyle 2,500 Euro special service fees/semester


Student grants / Financial assistance
The REMENA Master program is open to all nationalities. A limited number of scholarships for excellent applicants from Egypt or Tunisia is available under certain conditions.

A limited number of ERASMUS+ funding opportunities is available upon application for the summer semester in Sfax (study modes 5 + 6). Depending on the applicant's nationality, it is also possible to apply for education loans in your home-country, use governmental scholarships if offered in your home-country, or apply for individual support under program lines from private and public exchange services


Accommodation
Accommodation available.


Major recruiters of graduates of our programmes
Companies in the energy sector, international organisations, government institutions (ministries, energy authorities), international organisations, NGOs, engineering companies, research institutes in renewable energy and energy efficiency and "green" building technology, biotechnology for biomass.


Student profile
1.Countries of origin: All nationalities are welcome to apply. We have trained students from Azerbaijan, Cameroon, Columbia, Ecuador, Egypt, Finland, Germany, India, Iran, Iraq, Jamaica, Jordan, Lebanon, Nepal, The Netherlands, Nigeria, Morocco, Pakistan, Palestine, Syria, Tunisia, Turkey, Yemen, that is from 23 nationalities up to date.
2.Ratio Men/Women: Intended 50/50 Currently: Ranges between 70/30 and 90/10
3.Age Range: 23-39
4.Average Age: 27
5.Average Work Experience: The target group of this postgraduate course are young professionals from the field of renewable energy and energy efficiency, who have some initial work experience in this field. On average REMENA students have worked in a related field.


Admission requirements
The program is directed to young professionals with working experience and a high motivation to contribute to introducing a sustainable energy supply and to the development in the Arab region in general, which includes a keen interest in the culture and language. The participants should aspire to make a career in the international energy sector.

Minimum requirements are:
- a B.Sc. degree in engineering, architecture, natural sciences, economics, or social sciences
- experience in a field related to the REMENA study focus
- high motivation
- fluent in English (B2 CEFR) or undergraduate studies in English or mother tongue.


Programme Directors
University of Kassel: Prof. Dr. sc. techn. Dirk Dahlhaus
Cairo University: Prof. Dr. Adel Khalil
University of Monastir: Dr. Souheil El Alimi
Optional exchange semester University of Sfax: Dr. Ahmed Masmoudi